fMRI data analysis
Neurospin, Saclay (2007-2008)
Context:
Between May 2007 and December 2008, I held a postdoctoral position with Neurospin, French Atomic Energy Commission (CEA) in the Computer-assisted neuroimaging laboratory (18 months) and with IRRCyN, Ecole Central Nantes in the Analysis and Decision in Signal and Image Processing team (2 months). My work was supervised by Philippe Ciuciu (Neurospin) and Jérôme Idier (IRRCyN).

In the one hand, my scientific interests were devoted to the comprehension of diffusion-weigthed functional Magnetic Resonance Imaging (dw. fMRI). In the other hand, I was involved in the development of new statistical analysis methods for fMRI image sequence analysis. An extension of the method described in (Ciuciu et al., IEEE TMI, 22(10) pp.1235-1251) using unsupervised spatial regularization was developped. My work focused, in particular, on the estimation of normalization constants for Ising and Potts models.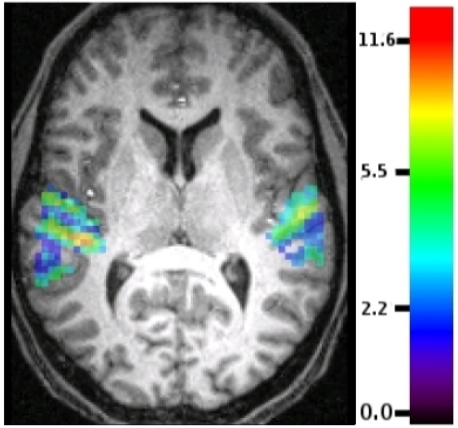 Illustration: Contrast map. Auditory clic.



Journal papers:
Vincent T., Badillo S., Risser L., Chaari L., Bakhous C., Forbes F., Ciuciu P. Flexible multivariate hemodynamics fMRI data analyses and simulations with PyHRF Frontiers in Neuroscience. DOI:10.3389/fnins.2014.00067, 2014 (link)

Risser L., Vincent T., Forbes F., Idier J., Ciuciu P. Min-max extrapolation scheme for fast estimation of 3D Potts field partition functions. Application to the joint detection-estimation of brain activity in fMRI. Journal of Signal Processing Systems. 60(1), DOI:10.1007/s11265-010-0505-6, 2010 (link)

Ciuciu P., Vincent T., Risser L., Donnet S. A joint detection-estimation framework for analysing within-subject fMRI data. Journal de la Société Française de Statistique. 151(1):58-89, 2010 (link)

Vincent T., Risser L., Ciuciu P., Idier J. Unsupervised spatial mixture modelling for within-subject analysis of fMRI data. IEEE Transactions on Medical Imaging 29(4):1059-1075, 2010 (link)


Conference proceedings:
Risser L., Vincent T., Forbes F., Idier J., Ciuciu P. How to deal with brain deactivation in the joint detection-estimation framework? Human Brain Mapping (HBM'10) - Top ranked abstract, Barcelona, Spain, June 2010.

Risser L., Idier J., Ciuciu P. Extrapolation schemes for fast ISING field partition functions estimation. IEEE International Conference on Image Processing (ICIP'09). Cairo, Egypt, November 2009.

Risser L., Vincent T., Ciuciu P., Idier J., Extrapolation scheme for fast ISING field partition functions estimation. Application to fMRI time course analysis. Internatinal Conference on Medical Image Computing and Computer Assisted Intervention (MICCAI'09). London, UK, September 2009.

Risser L., Vincent T., Ciuciu P., Idier J., Schémas d'extrapolation de fonctions de partition de champs de Potts. Application à l'analyse d'image en IRM fonctionnelle. Groupe de Recherche et d'Etudes du Traitement du Signal (GRETSI'09). Dijon, France, September 2009

Fouque A.L., Ciuciu P., Risser L., Vincent T. Mélanges spatiaux gaussiens multivariés pour la classification de paramètres hémodynamiques en IRM fonctionnelle Groupe de Recherche et d'Etudes du Traitement du Signal (GRETSI'09). Dijon, France, September 2009

Risser L., Vincent T., Ciuciu P. Extrapolation Scheme For Fast 3D Ising Field Partition Function Estimation. Application to Bayesian Analysis of Within Subject fMRI Data. Human Brain Mapping (HBM'09).

Vincent T., Risser L., Ciuciu P. Spatially adaptive mixture modeling for analysis of fMRI time series. Human Brain Mapping (HBM'09).

Fouque A.L., Ciuciu P., Risser L. Multivariate spatial Gaussian mixture modeling for statistical clustering of hemodynamic parameters in functional MRI. International Conference on Acoustics, Speech, and Signal Processing (ICASSP'09). Taiwan, April 2009

Risser L., Ciuciu P., Aso T., Le Bihan D. Brain activation detection using diffusion-weighted and BOLD fMRI: a comparative study. International Conference on Medical Image Computing and Computer Assisted Intervention (MICCAI'08). Workshop on Computational Diffusion MRI. New York, September 2008


Seminars and talks:
Risser L., Vincent T., Ciuciu P. Fast estimation of Ising field partition functions. Application to the analysis of fMRI time series. Neurospin, CEA. Saclay, France, March 2009.

Risser L., Vincent T., Idier J., Ciuciu P. Joint detection-estimation of brain activity from fMRI time series. Institut de Recherche en Communications et Cybernétique de Nantes, Ecole Centrale Nantes. Nantes, France, November 2008.

Risser L., Vincent T., Ciuciu P. Fast estimation of 3D Ising field partition functions. Application to fMRI. Siemens Corporate Research, Princeton. Princeton, USA, September 2008

Risser L., Vincent T., Ciuciu P. Fast estimation of 3D Ising field partition functions. Application to fMRI. Medical Image Processing Group, University of Pennsylvania. Philadelphia, USA, September 2008